Be a part of the "Sanford Chamber Seen"
The Sanford Regional Chamber of Commerce watches for promotional opportunities to share your business information with everyone we touch. As a member in good standing, you are invited to take advantage of "member-only" advertising packages.
Advertising on the Sanford Regional Chamber of Commerce website is a great opportunity to market your company to over 100,000 people that access our website each year.  The Sanford Regional Chamber of  Commerce website is the primary focal point and source for all Chamber programs, events, and services, as well as being a primary     resource for business, residents, community leaders, and visitors.
Business Directory Printed Pocket Guide
Annually we print the Member Pocket Guide that lists your business by the categories you selected.
The guides are distributed in the tourism lobby, at all chamber events, chamber office and our kiosks at the Sanford Orlando Airport.  Members can also purchase advertisement.
Be sure to get your copy and share in your office and stores.  Members use members . . . community and visitors use members.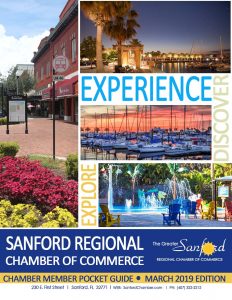 Online Business Directory
Your individual category listing in our Business Directory is a quick reference for your business information. With a 200 character business description, detailed business bio, map, photos, social media links and more. The online directory is an easy way for the community to find you and for you to find partner businesses. Visitors to the directory can search by category, keyword, or simply view all listings in alphabetical order.
Best of all, the business directory is personal because you control the information. Want to be found for a new keyword or service -add it!
Sanford Street & County Map
The map has both Sanford and Seminole County represented in print. The map can be found on our website in an online interactive version.
Each participating business will be listed by name and business category, with a pin-point location on the online map.
10,000 copies distributed for 12-14 months at the Sanford Tourism Office, Sanford Chamber Office, Local Hotels/Motels, Sanford Orlando International Airport and the Sanford Sunrail Station.
Website Banner Ad
Banner advertisment options available on our website, Meet with a chamber representative to find the right page for you to promote  your business or promotion.
Email Ads
Have a promotion you want to advertise to all chamber members, place an ad in our Monday eNewsletter and reach over 2,000.
Ad size: 790x175 px
Combo Packages Available
Web advertisement and add the email advertisement for a discounted price.  Need help with your call the chamber office to get more information.